Я несколько раз называл адвокатов -- и они, как это ни удивительно, действительно, реальные адвокаты -- Лина Вуда и Сидни Пауэлл ненормальными, подчеркивая, что не имею в виду медицинский диагноз, а имею в виду их ненормальное поведение.

Однако, в последнее время Вуд и Пауэлл ведут себя так, что предположение о том, что они и в психическом смысле not OK, сложно отбросить.

И Вуду даже удалось превзойти Пауэлл. Просто зайдите в его Твиттер и почитайте последние твиты. Собственно, Вуд сам в твитах отвечает на предположения о его сумасшествии.

Я приведу его сегодняшнюю цепочку твитов (via Sergey Romanov):
(1) For two months we have focused on accusing the Democrats of attempting to steal the 20/20 election for Biden. We focused on the Presidential election.

We focused on the obvious.

Over time, we have learned that the Democrats were joined by CCP & other foreign countries.

(2) We have also learned that the Globalists like George Soros & the Elitists like Bill Gates were involved. CIA too (no surprise - military industrial complex).

It all seemed so clear we overlooked one of the main participants in the theft of the election:

THE REPUBLICANS.

(3) These groups aspire to the goals of Communism. A ruling elite & an oppressed class of people who exist to serve those in power.

When arrests for treason begin, put Chief Justice John Roberts, VP Mike Pence @VP @Mike_Pence, & Mitch McConnell @senatemajldr at top of list.
Сами трамписты не очень понимают на что можно надеяться, если даже Пенс с Макконнеллом погрязли в коррупции. Вот хороший диалог:
MCR: Who is going to do the arresting if everyone is so corrupt?

Lin Wood: Military. We can trust our soldiers.
Ссылка на military -- это Q.

По поводу Пенса диалог еще лучше:
American Dawg: So Pence will save the election as President of the senate then get arrested. Not a chance. Something in your logic doesn't add up. Please explain.

Lin Wood: If Pence is arrested, @SecPompeo will save the election. Pence will be in jail awaiting trial for treason. He will face execution by firing squad. He is a coward & will sing like a bird & confess ALL.
Мне, кстати, вот что интересно.

Что по этому поводу пишут жжешные трамписты?



Их как-то сейчас ни в моем журнале не видно, ни вообще. Они считают Вуда с Пауэлл сумасшедшими? Или они тоже готовы обвинить Пенса в предательстве? Где это все обсуждается?

Кстати, судебный иск конгрессмена Луи Гомерта к Пенсу был сегодня "выброшен", номинированным Трампом судьей: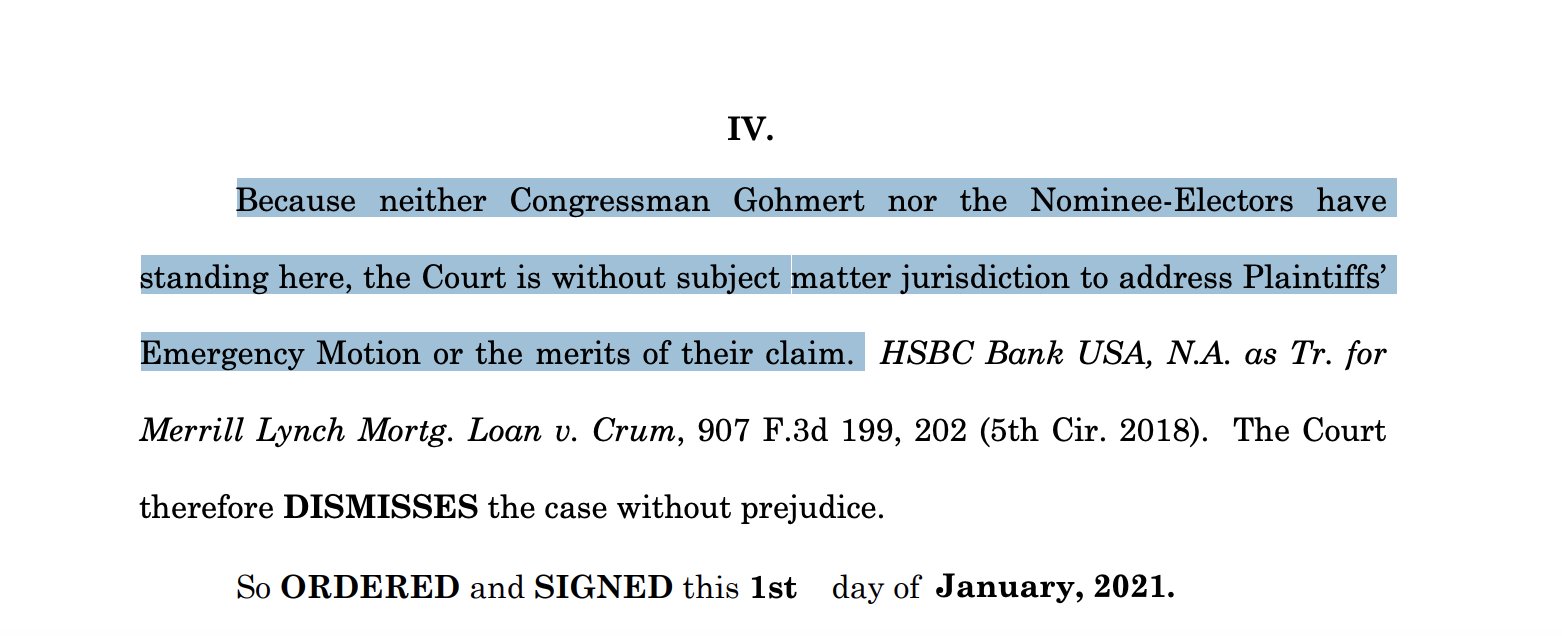 Гомерт, конечно, тут же подал апелляция. На реакцию Гомерта можно посмотреть здесь:
"In effect, the ruling would be that you've got to go to the streets and be as violent as antifa and BLM."

BREAKING 🚨: Representative Louie Gohmert reacts to his lawsuit being dismissed. https://t.co/VlT7z8drtO pic.twitter.com/BAS6HGX5FU

— Newsmax (@newsmax) January 2, 2021
P.S. Приведу разговор двух поклонников Q, потому что, мне кажется, не все понимают уровень безумия:
-- He [Pence] and Ryan tried to kill Trump

-- I heard due to that Pence was executed and what we see is a clone or double. Can't confirm that's just what I heard.